How to Swim Faster with a Snorkel?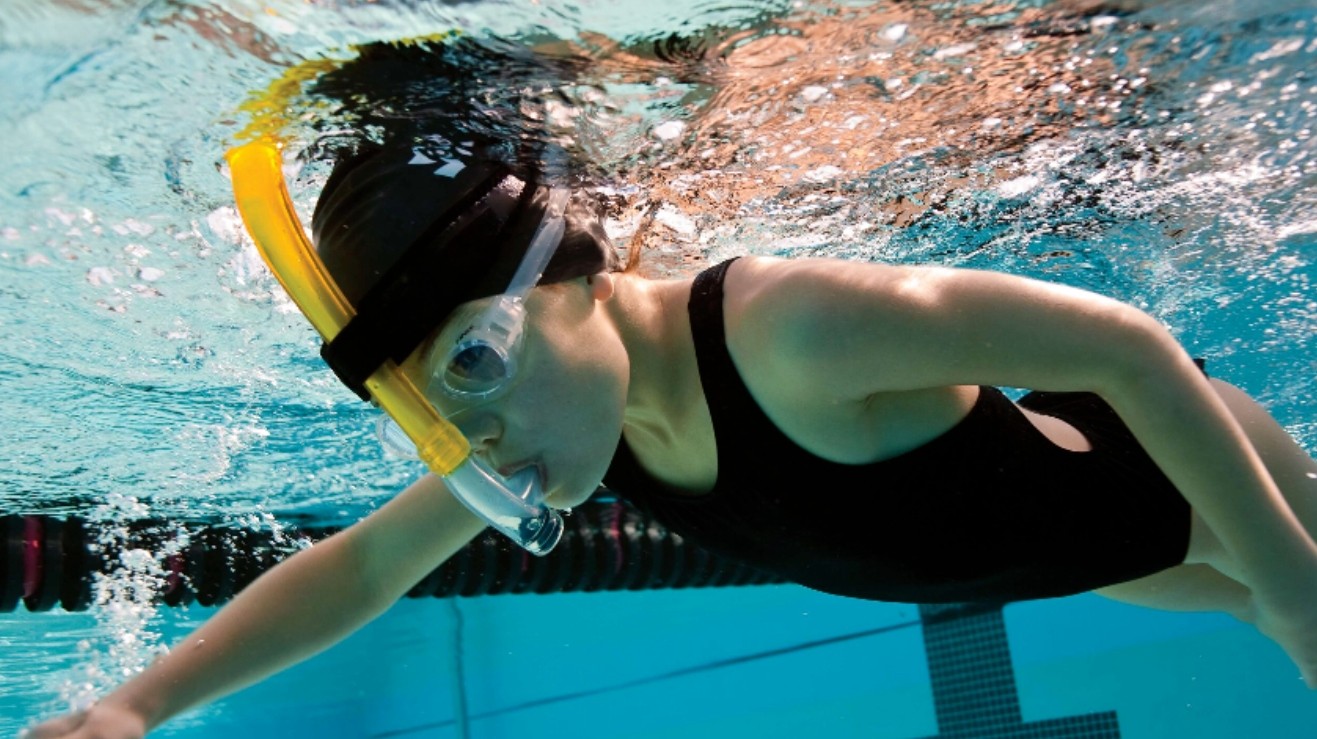 Snorkeling isn't just for tropical vacations. In fact, incorporating a snorkel into your swim training can transform your technique and breath control!
Learn how a swim snorkel differs from a traditional one, as well as faster tips for swimming with a snorkel to help you incorporate it into your training.
What Is a Snorkel?
1. Position on the Head: The swim snorkel is center-mounted, which means it sits in the center of your face, extending from your mouth to the top of your head. It's more hydrodynamic. A traditional snorkel is placed on one side of the face.
2. Straps to the Head: Whereas a traditional snorkel hangs from your goggle on the side of your head, the swim snorkel has a strap that wraps around your head to ensure it stays in place during your workout.
Benefits of Using Snorkel Training
As you continue to train with a snorkel, you may find that your technique and breath control improve.
Technique: When you swim with a snorkel, you keep your head still. This is a huge advantage when you are practicing. When you don't have to spin or hold your head up to breathe, you can focus on finer aspects of your technique that you may not have noticed before.
Breathing Control: Your snorkel restricts your breathing (you breathe through the tube, after all!), which can improve your breathing control and aerobic capacity over time.
For maximum breath control, we recommend using the snorkel for 30-50% of your workout. It's worth noting that you may need to spend some time developing your snorkel "tolerance". Don't try to do a whole workout with a snorkel right away!
Faster Tips for Snorkel Swimming
Improving swimming speed using a snorkel involves a combination of technique improvement, conditioning training, and equipment optimization. Here are some tips to help you swim faster with a snorkel:
Correct Technique:
Body Position: Maintain a streamlined body position that keeps your body level in the water. This reduces drag and helps you glide more efficiently.
Kick Technique: Focus on delivering a powerful, rhythmic kick from the hip. Use short, quick flapping kicks to maintain propulsion.
Arm Stroke: Develop a strong and efficient arm stroke. Your arms should move across the water in one fluid motion, your hands enter the water smoothly, and your forearms and hands create propulsion.
Breathing Technique:
Use of the Snorkel: The snorkel allows you to maintain a consistent breathing pattern without turning your head. This minimizes distractions during your stroke and helps you maintain momentum.
Relaxed Breathing: Breathe calmly and deeply through the breathing tube. This will ensure that you get enough oxygen without wasting energy on fast or shallow breaths.
Physical Training:
Endurance Training: Improve overall swimming endurance with regular endurance training. This will allow you to maintain a higher speed for a longer period of time.
Interval Training: Incorporate interval training into your routine. Swim shorter distances at a faster pace, followed by short breaks. This helps improve your anaerobic capacity, which is crucial for sprinting.
Device Optimization:
Snorkel selection: Choose a snorkel that is comfortable and does not restrict breathing. Consider snorkels designed specifically for swimming, as they often have a streamlined design.
Fins: Using fins can enhance your kicking power and help you move more efficiently through the water.
Goggles: Make sure your goggles fit and provide a clear view underwater. A good fit reduces water resistance and prevents leaks.
Strength and Flexibility:
Core Strength: A strong core helps stabilize the body and maintain a streamlined position in the water.
Flexibility: Improve your flexibility with stretches, as this enhances your range of motion and helps you achieve more efficient strokes.
Remember that consistent practice and gradual improvement is the key to swimming faster with the snorkel. Be patient with yourself and implement these tips gradually to see positive changes in your speed and efficiency. The above has introduced the faster technique of swimming with a snorkel and the benefits of using a snorkel. If you want to know more or want to buy a snorkel, please
contact us
.
Shengbailong is a professional
custom swimming and diving equipment manufacturer
. Specializing in the production of snorkels, swimming goggles, silicone swimming caps, diving masks and other products. The factory is equipped with mold CNC machines, injection molding machines, hydraulic presses, and related equipment for anti-fog and mirror processing. The production cycle is less than 30 days, and the monthly production capacity reaches 300,000 pieces. We are proud to be a reliable partner of some of the world's most recognized brands.